December 5th I did my first half marathon (13.1 miles). It was in Dallas – I signed up for this race because I didn't think I could be ready for a half much earlier, because we could drive to Dallas, and because I hoped (fondly, and wrongly as it turned out) that it would still be warm in Dallas at the beginning of December (well, it was warm the day before the race…more on that later). I was also encouraged by the fact that the race rules specified push rim wheelchair only. Some (many) marathons have both push rim and handcycling divisions, and because handcycling is easier, the number of push rim entries tends to be very small. I was hoping for some competition.
This is a combination marathon/half marathon with about 20,000 competitors (most of whom do the half – I guess I shouldn't have been surprised by that). It has traditionally started and ended at White Rock Lake Park in Dallas, but has outgrown the parking and now starts at Fair Park, the home of the Texas State Fair. Dallas doesn't have a whole lot of elevation going on; the total elevation gain/loss is about 150 feet. This was also going to be my first athletic event at sea level.
My Beloved managed to tear down the racing chair into small enough pieces to fit into his four door sedan (what, you don't want to drive my station wagon 900 miles with the racing chair in the back?) and we hit the road. We arrived Friday night, and met up with our friends and former neighbors Jan and Greg who live in Dallas now.
Saturday morning we picked up my packet and T-shirt, and then joined Jan and Greg for some Dallas sightseeing, including a visit to the SMU recreational facility, where I was very excited to find 17.5 pound dumbbells (absent from my gym).
Saturday evening we (I) had too much delicious Mexican food.
Sunday morning bright and early we checked out the hotel, picked up Jan and Greg at 5:45, and headed to Fair Park in two cars (since the racing wheelchair was taking up the whole backseat of our car). The race had kindly given me a VIP parking pass to allow us to park close to the start. Jan and Greg, however, had a 15 minute hike from where they parked to meet us. It was about 34°F at this point, and still dark. My Beloved began putting the racing chair back together.
I did a couple of turns around the parking lot as a sort of truncated warm up, and was lined up at the start by 7:30 or so. Despite the "push rim only" rule, it was an interesting assortment: me, three guys in racing chairs who were doing the full marathon, a guy pushing his 13 year old daughter in a modified racing chair, a woman in a handcycle, a guy in an everyday chair, and a guy in a home made device—I'm not sure whether to call it a handcycle or racing chair. We admired two beautiful horses, riders all kitted out in elegant Western wear, complete with Texas flag. It was still quite chilly, and the Texans were complaining. I wasn't any too happy about it, either, but at least it felt familiar.
Volunteers were plentiful—each wheelchair competitor was assigned two bicycle escorts. Mine were Curt and Serena, and they were fantastically helpful. Curt asked me what my pace was going to be, and I told him I hoped for a time between 1:45 and 2:00 (and that anything under 1:45 would be a miracle). We started, and the three other push rim racers took off ahead of me like a shot. I was alone on the course for about four miles before the first runners started passing me, but even though it was early, spectators and volunteers were enthusiastic and supportive. The race went through a downtown area, then the arts district, and then into very nice residential areas. There were almost always spectators; I don't remember any long stretches with no one around. Even once runners caught up with me the fields were pretty thin.
At about 7 miles the guy with the handmade contraption passed me, complaining about the uphill.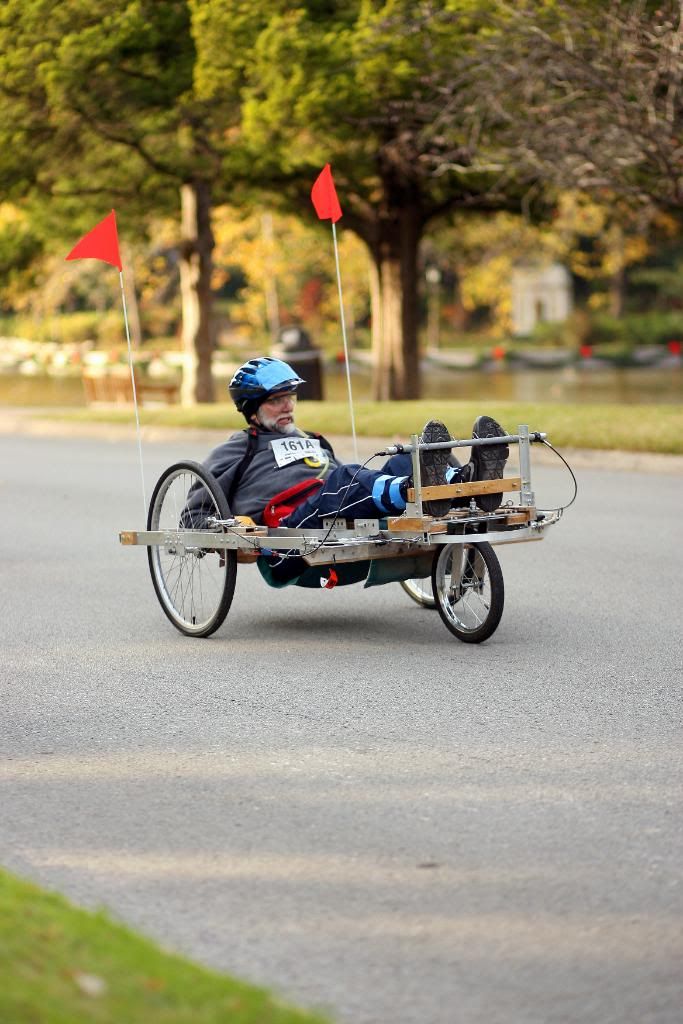 He seemed to be having trouble steering, and left knocked over traffic cones in his wake. I had been sort of sightseeing up until then, but decided I wasn't going to let this guy stay ahead of me. It took a while for me to pick my passing spot, since his doohickie was pretty wide and he tended to weave a bit, but once I did pass him, I didn't see him again (turned out he was doing the full marathon, so more power to him!).
The full and half marathon courses split at about the 9 mile mark, and the course was mostly downhill from there. I took one turn a little fast, lifting one wheel off the ground, which amused my bicycle escort no end. The last mile or two featured vast quantities of clothing that had been discarded by freezing runners as they warmed up after starting. It was fun to hear the announcer calling out my name as the first wheelchair finisher as I came back into the park. My time was a mind-bending 1:36:55, a finish I can only attribute to no hills, and the turbo-boost that comes from all that oxygen at sea-level.
After finishing all runners (including me, in the racing chair) were funneled into a building where we were given a shirt, a finisher's medal, and had the opportunity to pick up some food. I couldn't figure out how to carry anything with me, but luckily my Beloved had finagled his way in (despite eagle-eyed security guards doing their best to keep non-runners out) and gave me a hand.
There was a party/expo after the race, but everyone was freezing, so we opted for packing up and heading back to Jan and Greg's for lunch. There we watched (fast forwarded through) the TV coverage of the race, in which we learned that there apparently hadn't even been a wheelchair division—no footage or mention at all. I never did figure out who my competitors in the half-marathon wheelchair division were, or even what they were pushing. Whatever—I had a great time!